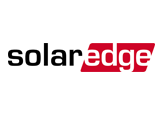 Products
Samil Power
SMA
SolarEdge
Steca
Solis
ABB
Enphase
Huawei
---
SolarEdge was founded in 2006 and has a market share of over 70% in the power optimising sector. The company already has more than 5.6 million worldwide optimisers and 245 thousand inverters delivered to over 40 countries.

The SolarEdge portfolio of products includes power optimizers, highly efficient PV inverters and a web portal for module-level monitoring and fault detection. The SolarEdge system enables harvesting more solar power from any PV system by effectively removing the known system constraints across the photovoltaic energy space.


The SolarEdge DC-AC PV inverter is specifically designed to work with the SolarEdge power optimizers. Because MPPT and voltage management are handled separately for each module by the power optimizer, the inverter is only responsible for DC to AC inversion. Consequently, it is a less complicated, more cost effective, more reliable solar inverter with a standard 12 year warranty, extendable to 20 or 25 years. The fixed string voltage ensures operation at the highest efficiency at all times (>97% weighted efficiency) independent of string length and temperature.

The SolarEdge power optimizer is a DC/DC converter which is connected by installers to each PV module or embedded by module manufacturers, replacing the traditional solar junction box. The SolarEdge power optimizers increase energy output from PV systems by constantly tracking the maximum power point (MPPT) of each module individually. Furthermore, the power optimizers monitor the performance of each module and communicate performance data to the SolarEdge monitoring portal for enhanced, cost-effective module-level maintenance. Each power optimizer is equipped with the unique SafeDC™ feature which automatically shuts down modules' DC voltage whenever the inverter or grid power is shut down. The MPPT per module allows for flexible installation design with multiple orientations, tilts and module types in the same string. SolarEdge power optimisers have a 25 year warranty.
SolarEdge Supports the Tesla Home Battery
Install a SolarEdge system now and future proof your customers so they can add on the long awaited Tesla battery when it becomes available in 2016. If you install the 5000 & 6000 single phase SolarEdge inverters for your customers now, you'll help them become future proof and Tesla ready. SolarEdge's StorEdge™ DC coupled storage solution allows home owners to maximize self-consumption for greater independence from the grid.

The SolarEdge StorEdge™ solution requires the following products:
SolarEdge Inverter
As well as its normal functionality as a PV inverter, the SolarEdge inverter manages the battery and system energy. (Any SolarEdge PV inverter produced after 2013 can be upgraded with StorEdge™.)
StorEdge™ Interface
This specially developed interface allows the Tesla Home Battery, Powerwall to connect with a SolarEdge inverter. It makes for an easy installation and can be used to upgrade existing SolarEdge systems. It is also designed to eliminate DC voltage and current during installation, maintenance, and firefighting.
SolarEdge Meter
The SolarEdge meter is used for battery integration and for production / consumption readings for Feed-in Limitation.
You can find out more about SolarEdge on the manufacturer website here, or if you want to find out more about StorEdge™ specifically, you can read more here
Segens SolarEdge portfolio includes power optimizers and PV inverters with high efficiency and ultimate flexibility.
Listed below are all the products supplied by Segen for , please select any of the listed part codes in the first column to view full details of the product.
| | | | |
| --- | --- | --- | --- |
| P300-MC4 | PV Inverter | Optimiser | SolarEdge P300 Optimiser 300W MC4 60 Cell |
| P350-IND-MC4 | PV Inverter | Universal Optimiser | SolarEdge P350 Ind-Optimiser 350W MC4 60/72 Cell |
| P350-MC4 | PV Inverter | Optimiser | SolarEdge P350 Optimiser 350W MC4 72-Cell 1.2M |
| P404-MC4 | PV Inverter | Optimiser | SolarEdge P404 Optimiser MC4 60 / 72 Cell |
| P405-MC4 | PV Inverter | Optimiser | SolarEdge P405 Optimiser MC4 60/72/96 Cell |
| SE-STI-S1 | Storage Systems | DC String Battery Controller | StorEdge DC Storage Interface |
| SE-STI-S2 | Storage Systems | DC String Battery Controller | StorEdge II Interface ( High Power ) for RESU 10H |
| SE-3680H-AC | Storage Systems | Battery Inverter | StorEdge HD Wave 3680W AC Coupled inverter |
| SE-3680H-AC-S4 | Storage Systems | Charger-Inverter | StorEdge HD Wave 3680W AC Coupled inverter with StorEdge 4 |
| SE-5000H-AC | Storage Systems | Battery Inverter | StorEdge HD Wave 5000W AC Coupled inverter |
| SE1000-SEN-IRR-S1 | Environmental Sensors | Weather Sensor | Irradiance sensor 0-1.4V |
| SE1000-SEN-PSU-S1 | Environmental Sensors | Weather Sensor | Temperature sensor PSU 24V/1A |
| SE1000-SEN-TAMB | Environmental Sensors | Weather Sensor | Ambient temperature sensor 0-10V |
| SE1000-SEN-TMOD-S1 | Environmental Sensors | Weather Sensor | Module temperature sensor 4-20mA |
| SE1000-SEN-WIND-S1 | Environmental Sensors | Weather Sensor | Wind velocity sensor 4-20mA |
| SE-ACT-0750-1000 | Display | Current Sensor Clamp | 1000A Split-Core Current Transformer |
| SE-ACT-0750-250 | Display | Current Sensor Clamp | 250A Split-Core Current Transformer |
| SE-ACT-0750-50 | Display | Current Sensor Clamp | 50A Split- Core Current Transformer |
| SE-WNC-3Y-400-MB-K1 | Display | Energy Meter | 1PH/3PH 230/400V SolarEdge Modbus Meter 1 second |
| SE-WND-3Y400-MB-K1 | Display | Energy Meter | 1PH/3PH 230/400V SolarEdge Modbus Meter 1 second |
| SE1000-S0IF01 | Display | Meter Unit | S0 meter adapter cable |
| SE-1000-WIFI01 | Display | Web Interface | SolarEdge WiFi Module Kit |
| SE-1000-ZB05-SLV | Display | Web Interface | ZIGBEE INVERTER SLAVE KIT Type 5 |
| SE-1000-ZBGW-K | Display | Communication | SOLAR EDGE HOME GATEWAY +SLAVE |
| SE-3PH-GSM-K2 | Display | Three Phase Remote GSM Monitoring | GSM Upgrade kit for 3PH Inverters |
| SE-ACT-0750-100 | Display | Current Sensor Clamp | 100A Split- Core Current Transformer |
| SE-33300 | PV Inverter | Main Unit | SolarEdge 33,300W 3ph Inverter N2 Basic 480V MV |
| SE-33300 D2 | PV Inverter | Main Unit | SolarEdge 33,300W 3ph Inverter D2 with DC Safety Unit and fuses 480V MV |
| SE1000-CCG-F | Display | Firefighter Controller | SolarEdge Firefighter Safety Gateway |
| SE1000-CCG-G | Display | Plant Controller | SolarEdge Control and Communication Gateway (HUB) |
| SE-17000 | PV Inverter | Main Unit | SolarEdge 17,000W 3ph Inverter |
| SE-25000 | PV Inverter | Main Unit | SolarEdge 25,000W 3ph Inverter N2 Basic |
| SE-25000-D2 | PV Inverter | Main Unit | SolarEdge 25,000W 3ph Inverter D2 with DC Safety Unit and fuses |
| SE-27600 | PV Inverter | Main Unit | SolarEdge 27,600W 3ph Inverter N2 Basic |
| SE-27600-D2 | PV Inverter | Main Unit | SolarEdge 27,600W 3ph Inverter D2 with DC Safety Unit and fuses |
| SE-10000 | PV Inverter | Main Unit | SolarEdge 10,000W 3ph Inverter |
| SE-12500 | PV Inverter | Main Unit | SolarEdge 12,500W 3ph Inverter |
| SE-15000 | PV Inverter | Main Unit | SolarEdge 15,000W 3ph Inverter |
| SE-16000 | PV Inverter | Main Unit | SolarEdge 16,000W 3ph Inverter |
| SE-6000H | PV Inverter | Main Unit | SolarEdge 6000W 1ph Inverter HD-Wave |
| SE-7000-E-3PH | PV Inverter | Main Unit | SolarEdge E-Series 7000W 3ph Inverter |
| SE-8000-E-3PH | PV Inverter | Main Unit | SolarEdge E-Series 8000W 3ph Inverter |
| SE-9000 | PV Inverter | Main Unit | SolarEdge 9000W 3ph Inverter |
| SE-5000-E-3PH | PV Inverter | Main Unit | SolarEdge E-Series 5000W 3ph Inverter |
| SE-5000H | PV Inverter | Main Unit | SolarEdge 5000W 1ph Inverter HD-Wave |
| SE-5000H-WIFI | PV Inverter | Main Unit | SolarEdge 5000W 1ph Inverter HD-Wave with built-in WIFI |
| SE-6000 | PV Inverter | Main Unit | SolarEdge 6000W 1ph Inverter |
| SE-6000-3PH | PV Inverter | Main Unit | SolarEdge 6000W 3ph Inverter |
| SE-6000-E-3PH | PV Inverter | Main Unit | SolarEdge E-Series 6000W 3ph Inverter |
| SE-3680H-WIFI | PV Inverter | Main Unit | SolarEdge 3680W 1ph Inverter HD-Wave with built-in WiFi |
| SE-4000 | PV Inverter | Main Unit | SolarEdge 4000W 1ph Inverter22A AC (SE-4000-ER-01) |
| SE-4000-3PH | PV Inverter | Main Unit | SolarEdge 4000W 3ph Inverter |
| SE-4000H | PV Inverter | Main Unit | SolarEdge 4000W 1ph Inverter HD-Wave |
| SE-4000H-WIFI | PV Inverter | Main Unit | SolarEdge 4000W 1ph Inverter HD-Wave with built-in WiFi |
| SE-5000 | PV Inverter | Main Unit | SolarEdge 5000W 1 ph Inverter |
| SE-3000H-WIFI | PV Inverter | Main Unit | SolarEdge 3000W 1ph Inverter HD-Wave with built-in WiFi |
| SE-3500 | PV Inverter | Main Unit | SolarEdge 3500W 1ph Inverter |
| SE-3500H | PV Inverter | Main Unit | SolarEdge 3500W 1ph Inverter HD-Wave |
| SE-3500H-WIFI | PV Inverter | Main Unit | SolarEdge 3500W 1ph Inverter HD-Wave with built-in WiFi |
| SE-3680H | PV Inverter | Main Unit | SolarEdge 3680W 1ph Inverter HD-Wave |
| OPI300-LV-MC4 | PV Inverter | Universal Optimiser | SolarEdge IndOP 300W Power Optimiser MC4 - Alt. Inverters |
| SE-2200H | PV Inverter | Main Unit | SolarEdge 2200W 1ph Inverter HD-Wave |
| SE-2200H-WIFI | PV Inverter | Main Unit | SolarEdge 2200W 1ph Inverter HD-Wave with built-in WiFi |
| SE-3000H | PV Inverter | Main Unit | SolarEdge 3000W 1ph Inverter HD-Wave |
| P800P-1.8-MC4 | PV Inverter | Optimiser | SolarEdge P800P Optimiser 800W MC4 2x96cell Parallel 1.8m |
| P800P-1.8-MC4-SINGLE | PV Inverter | Optimiser | SolarEdge P800P Optimiser 800W MC4 single 1.8m |
| P800S-1.2-MC4 | PV Inverter | Optimiser | SolarEdge P800S Optimiser 800W MC4 2xHigh Power Series 1.2m |
| P800S-2.1-MC4 | PV Inverter | Optimiser | SolarEdge P800S Optimiser 800W MC4 2xHigh Power Series 2.1m |
| SE-1000-KEY | PV Inverter | Safety and Monitoring | SolarEdge Power Key SE-1000 |
| P500-MC4 | PV Inverter | Optimiser | SolarEdge P500 Optimiser 500W MC4 96 Cell |
| P600-1.2-MC4 | PV Inverter | Optimiser | SolarEdge P600 Optimiser 600W MC4 2x60Cell 1.2m |
| P600-1.8-MC4 | PV Inverter | Optimiser | SolarEdge P600 Optimiser 600W MC4 2x60 Cell 1.8m |
| P700-1.2-MC4 | PV Inverter | Optimiser | SolarEdge P700 Optimiser 700W MC4 2x72 Cell 1.2m |
| P700-2.1-MC4 | PV Inverter | Optimiser | SolarEdge P700 Optimiser 700W MC4 2x72 Cell 2.1m |
| P800P-1.2-MC4 | PV Inverter | Optimiser | SolarEdge P800P Optimiser 800W MC4 2x96cell Parallel 1.2m |